Hello, dear readers! I hope you're all keeping warm. If you're anywhere in the Midwest, that's been pretty difficult lately. Wind chills in our region were about -50º F today. That's right, FIFTY DEGREES BELOW ZERO. (The actual temperature was a bit better, at -16° F.) Some lucky ducks got to telecommute today (ahem…Jennifer…), most schools were cancelled, and extreme safety precautions were advised. My parents went to Costco on Saturday, and it was so jam-packed with thousands of people that they ran out of carts and shelves were bare–the same was reported at many grocery stores. In fact, it's being called a "Snowpocalypse"–half-jokingly. As much as I love Frozen, I didn't think we'd be experiencing this real-life deep freeze.
I sent out this plea to stop the winter via Twitter on Saturday:
"That's no blizzard—that's my sister!" Elsa, another foot of snow?? These are my cool weekends—pun intended. #Frozen pic.twitter.com/KrxEB9LtcS

— Amanda Fowler (@Amanda_K_Fowler) January 4, 2014
…but it was to no avail. The snow had been falling since before New Year's Eve, and the temperature was soon to follow.
Of course, although I'm a summer girl through-and-through, I really have no right to complain. My personal chauffeur, a.k.a. my father, took me from garage to curbside at work, meaning I only had to brave a few steps in the cold (bundled up as I was: turtleneck tunic sweater, pants, snow boots, down coat with hood, warm gloves). Actually, I felt like a bit of a wuss, but the shame faded as I watched my dad maneuver expertly around tricky black ice and even trickier drivers–who were less expert-like than my dad. 😉
Nevertheless, the weather made me long for the balmier snowy temperatures in Antarctica, currently at 33º F. And the South Georgia Island, a sub-Antarctic island, was 50° F at midnight last night. Yes, a full 100º warmer than it felt in the Midwest during our daytime high.
However, this unusual blast of Arctic wind has created unique beauty this region has rarely seen before. One photographer, Nick Ulivieri, was brave enough to endure the cold and capture the sight. He was rewarded for his efforts by an interview on NBC News tonight, which gained him scores of new followers who have fallen in love with his photos (I am one of them!).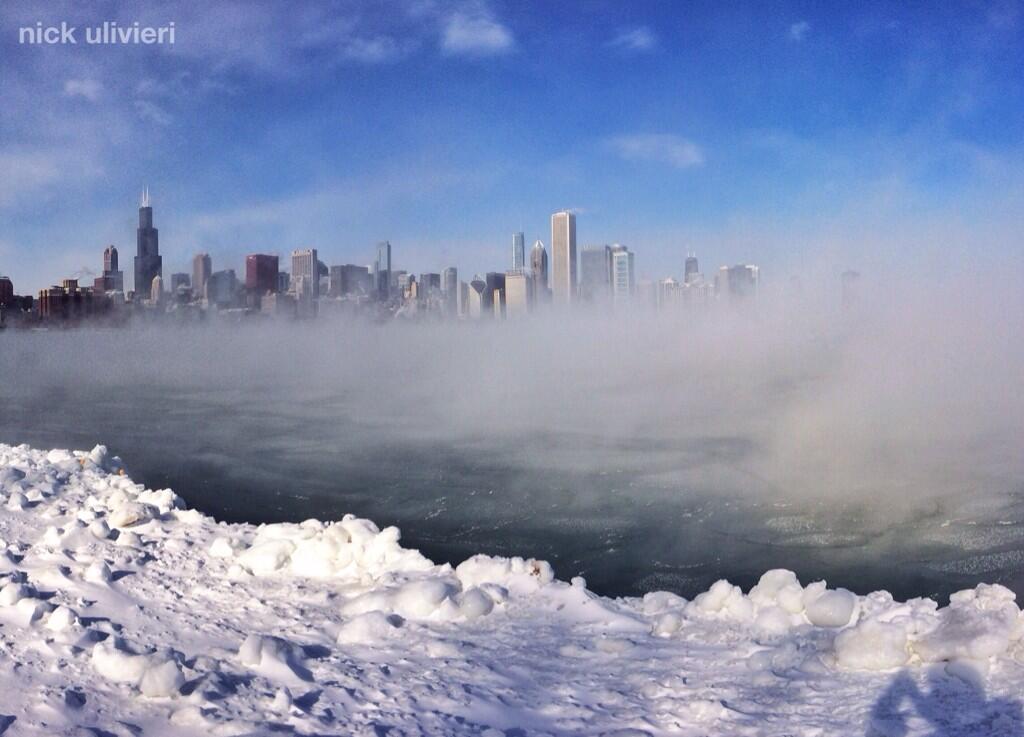 Isn't this breathtaking? I think the lesson here is that if we close our eyes to what is uncomfortable, we might miss out on what's beautiful. Well done, Nick. You can follow Nick and see his photography on Twitter at @ChiPhotoGuy, Facebook, or Flickr.
I hope you stay safe and warm, dear readers. This blogger has to thank Nick for his reminder to look at things jelly-side up. 🙂
Join me later this week for a winter-themed Top 10!