Good evening, dear readers! I'm happy to report the temperature has been rising slowly, since my last post. Today, it reached a warm 16° F, which unleashed a carefree zeal in many drivers, to which my coworker commented, "It's still below freezing, people…you're still driving on ice." Well, she was mostly right, except that sometimes, it was more spinning than driving. Luckily, I had my fabulous chauffeur driving me again, so my commute was carefree and chatty, even if he wasn't. 😉
Tonight was my mom's birthday–happy birthday, Mom! ❤ We celebrated with Lou Malnati's deep dish veggie pizza (YUM) and tuxedo cake from Costco (DOUBLE YUM). We are extending the birthday celebration because we still don't have her gifts yet (it is the curse of a birthday close to the holidays, as I suffer myself–although not as badly as her). We did give her cards tonight, though. After a full day of writing and editing, I really let loose with being verbose, to the extent that she was reading the outside of the card while I was still finishing the novella within: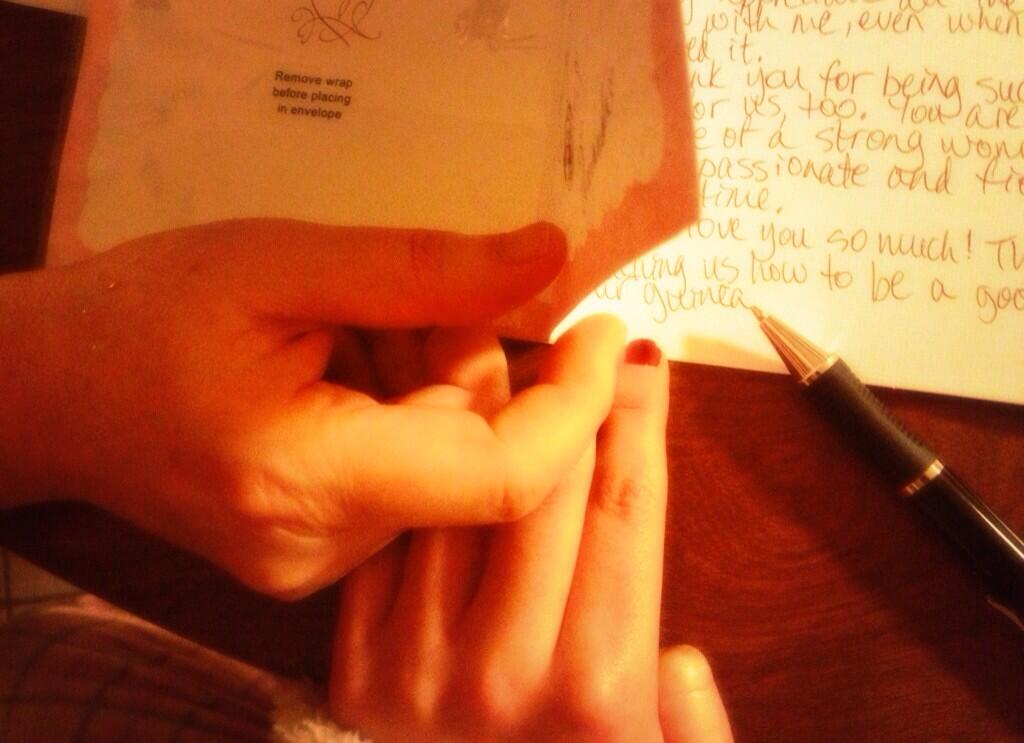 Dear readers, can you believe it's already been one week since the calendar page flipped over to 2013? Have you made your New Year's Resolutions (or are you reconsidering the ones you did make)? I'm still forming mine–something about cleaning my room and office, as well as finishing writing a book or two. 😉
If resolutions like these seem too humdrum to you, how about those of our favorite epic literary characters? Barnes & Noble put together a clever list that some popular literary characters might have made in our modern society. Perhaps these will give you some ideas of your own. 😉
It's 2014! (Thankfully Aeon the aging time vulture didn't kidnap the baby New Year.) As the light of the dawning new year hit your holidazed face, you might have been invigorated enough to make a few resolutions, varying in the degree to which you mean to keep them.
And you're not alone! We're all in the same boat, even your favorite fictional characters. We surveyed some literary titans, and here are a few of their goals for the bright, shiny new year:
Narrator (The Tell-Tale Heart)
"Find lodgings nearer to that yoga studio. More deep-breathing exercises. I must, I must!"
Dr. John Watson (The Complete Sherlock Holmes)
"Get that blasted leg wound sorted. Or was it a shoulder ailment? Bugger, I can't remember. Holmes!"
Robert Baratheon (A Game of Thrones)
"Lose that pesky 10 pounds…bobbing about on Cersei's shoulders. HA HA HA. You, mummer, bring me more prostitutes and wine! And that turkey leg."
Thranduil (The Hobbit)
"Invest in home security system improvements."
Albus Dumbledore (Harry Potter)
"Why, find new and inventive ways to mortally imperil my students, of course! Maybe lodging the sword of Gryffindor inside a giant talking spider, perhaps. Oh yes, that's very good. Very good indeed, Alby."
Rose of Sharon Joad-Rivers (The Grapes of Wrath)
"I'm bound to get an idear if I think long enough. Oh, I know, there's that Groupon for the family therapy I figgered we should put to use. And I reckon I ought to write to that feller from the barn."
Winnie the Pooh (The House at Pooh Corner)
"I would say I have to agree with Rabbit's resa…reso…I agree with what Rabbit wants. Extremely. Undoubtably. Did he say he hoped to have more honey? Oh, well then I shall want to add that as well."
Polonius (Hamlet)
"I plan to make time to get that shabby tapestry cleaned. Such filth, particularly on the back side, not that I would know what that looked like, of course…methinks that's enough now."
Rincewind (Discworld)
"No adventures. I resolve to have a nice, quiet, simple year with the Luggage. Absolutely no trifling about in dungeon dimensions or anything of the sort. Did you hear that? Um."
White Rabbit (Alice's Adventures in Wonderland)
"Remember, remember, remember all my appointments. Day planner—a day planner, that's the ticket!"
Holden Caulfield (The Catcher in the Rye)
"Resolutions are for phonies. And so are posthumous manuscript publications. Phonies. But I would like to find out where ducks go in the wintertime."
What's your resolution?