Happy International Women's Day! Today is a celebration of women's achievements and gender equality. To celebrate, I'm reblogging my post on "Strong Female Characters" in media–on what it means to be strong as a woman or man, as well as the modern popularity of this archetype and what it all means. Enjoy, and please add your own opinions in the comments!
Jelly-Side Up
One article has captivated the entire literary community since its publication last week: "I Hate Strong Female Characters," by Sophia McDougall. For modern readers and writers, that's just about as offensive a statement as you can get. And written by a WOMAN? How dare she, right? That's definitely what made me click, although I almost didn't want to, on the sheer concept of it.
It was a smart publicity move, and beginning the article with a photo of Buffy the Vampire Slayer, this author clearly knew what she was doing. Pairing an unpopular statement with a popular picture, the author ensured readers from every angle of the issue would be invested.
Before I get too far into this article, let me promise you I am not going to devolve into man-bashing. That's not what this is about.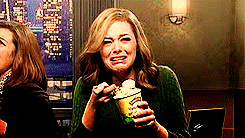 Not today, Emma Stone.
This article identifies—and participates in, IMHO—a…
View original post 1,368 more words