Happy Friday, readers! I wanted to tell you about the amazing daddy-daughter date I had last night. ❤
My excitement often overwhelms any hope of being photogenic in pictures, but such is the curse of a fangirl. (See my confession in my last post.)
Every morning I work, I wake up to Chicago's classical music station, WFMT, on my radio alarm clock. Earlier this week, I heard an advertisement for an event at the Ravinia Festival: the Chicago Symphony Orchestra would be playing Howard Shore's soundtrack while screening The Lord of the Rings: The Two Towers. Whoa! Was early-morning grogginess causing auditory hallucinations? Could this meld of my favorite things actually be taking place?
After checking on their website, I realized it was true!
I've been going to the Ravinia Festival with my family since I was little. We've seen many fantastic performances there. Ravinia is a unique concert experience, open during the summer near Chicago, where you can hear the music inside their pavilion or out on the lawn. Both options have their merits: The lawn enables you to have a picnic and be more immersed in nature; Ravinia's sprawling grounds are surrounded by huge trees, which provide a great platform for cicadas and birds to chime in. Inside the pavilion, you get to see the orchestra/performance, and you can hear the music directly, as opposed to amplified through speakers, both of which are difficult on the lawn.
By the time I'd heard about the performance, the pavilion seats were already sold out, so that made the choice easy. I knew immediately whom I would ask to go with me: my dad! We have always geeked out about Lord of the Rings together, texting each other quotes during the day, making important life decisions based on what the characters would do, etc.
My dad also happens to be my classical music buddy, the one who always listens to it, critiques it, and goes to see the concerts with me. So it was a perfect arrangement.
For something this epic, obviously, I had to go all-out.
In high school, one of my best friends Kara also frequently obsessed about LOTR with me, to the extent that we made iron-on shirts for our favorite LOTR races. I chose Hobbits, and she chose elves.
I got stopped many times at the concert by people wanting to know about my shirt; I was proud to say my friend and I had made them. You see, I know how much work goes into making clothing/accessories, and I take it as a compliment when people ask me if I've made something. Unfortunately, not everyone does, as I learned at the opening night of the Lyric Opera when I asked a lady if she'd made her hat. It had the extreme opposite effect; whoops.
I topped off the shirt with this necklace:
which the ticket guy complimented, as he handed me my ticket, wearing this ring:
at which point I knew we were entering a festival with other LOTR superfans. This was confirmed when we saw someone dressed in a Gandalf costume. 🙂
When we walked in 1.5 hours prior to the performance, believe it or not, the lawn was already packed. We lucked out in finding a prime spot for viewing, the screen only slightly obstructed by a light pole. Ravinia had fogged for bugs beforehand, which was very nice; we both escaped the night with 0 bug bites, which is positively unheard of for us.
One surprising element I found very fun was the pre-concert entertainment. On the screen, they displayed a live Twitter feed of people Tweeting @RaviniaFestival. This was a great touch, since so many people were there so far in advance of the concert. It was also great marketing, IMHO, because they got tons of new followers and looked super popular with people mass-Tweeting them for hours.
Everyone tried to out-humor each other, and many were quite clever. Some particular gems I enjoyed were: "One does not simply park into @RaviniaFestival. Its black gates are guarded by more than just Orcs. #LOTR" and "Every time Legolas or Gimli says a number, take that many shots. #drinkinggame"
Mine didn't make it onto the wall, but I did feel honored that @ChicagoSymphony (Orchestra) "favorited" it: "It's feeling more crowded than Helm's Deep here!" with this picture, which was only part of the front lawn section: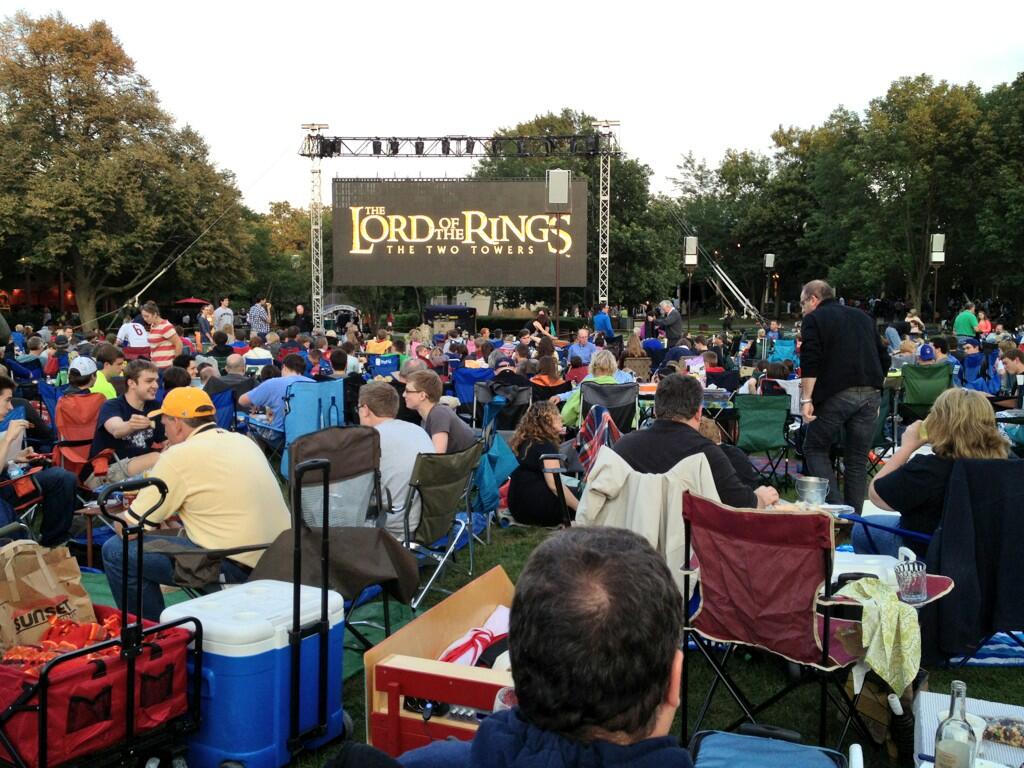 To make the night even more fantastic, there was a Lou Malnati's pizzeria five minutes from the park, which just so happens to be our favorite food ever. My dad and I picked up a veggie pizza for a picnic on our way there.
with carrot cake we bought at the festival for dessert. Another favorite!
When the screen changed and the orchestra started playing, everyone cheered and clapped, followed by audience silence–nice. I have to say the audience was wonderful, with no jeering, cursing, or drunken debauchery. The most disruptive it ever got was to whoop whenever Gandalf kicked butt, which we were all doing mentally, anyway.
The set-up was done quite well. The dialogue was toned down and captioned so that the music took the forefront, which was a really neat experience. The performance was flawless–perfectly in time and in tune, with heaps of passion from the orchestra, choirs, and vocal soloist. Even though I own the soundtracks and have listened to them countless times, it almost felt like hearing the music for the first time when I saw the visual scenes the songs matched. The regular movie version plays the music more quietly in the background so that the dialogue takes precedent–makes sense–so you don't notice the music as much. Shore's soundtrack is so fantastic that it is standalone, but having the meld of the two together was pretty magical. It was like having insight into the composer and the director's heads.
It was also neat being an audience member looking in. My high school orchestra played parts of this soundtrack once for a "Pops Concert" we did every year, and it felt so awesome to play violin in this epic music. Combining my love for the story and music with the "performance high" (mentioned in this post) of playing wonderful music on a favorite instrument–it was sublime. Hearing what something like that sounds like on the outside was a different kind of wonderful, too. For the next concert, I definitely want to try to get a pavilion seat, because part of what I love about concerts is seeing the energy of the musicians. I actually found out afterwards that one of my friends from my writing program at DePaul, Angel Barrette Underhill (no relation to Frodo's pseudonym), was singing in the choir, and that Kara was in the audience, too! What a small world. 🙂
I hope you have a fabulous and epic weekend, readers. In closing this post, let me share the best part of this daddy-daughter date: