Hello, dear readers! Did you have fun watching the Oscars tonight? Our family tuned in for a few parts. Ellen DeGeneres was hilarious as host, and there were some touching speeches and pretty dresses. 🙂 (In particular, Lupita Nyong'o's speech made me cry! I need to see 12 Years a Slave.)
Of course, I had to participate in Ellen DeGeneres's request for the world to make this the most retweeted photo ever–the set-up was pretty cute: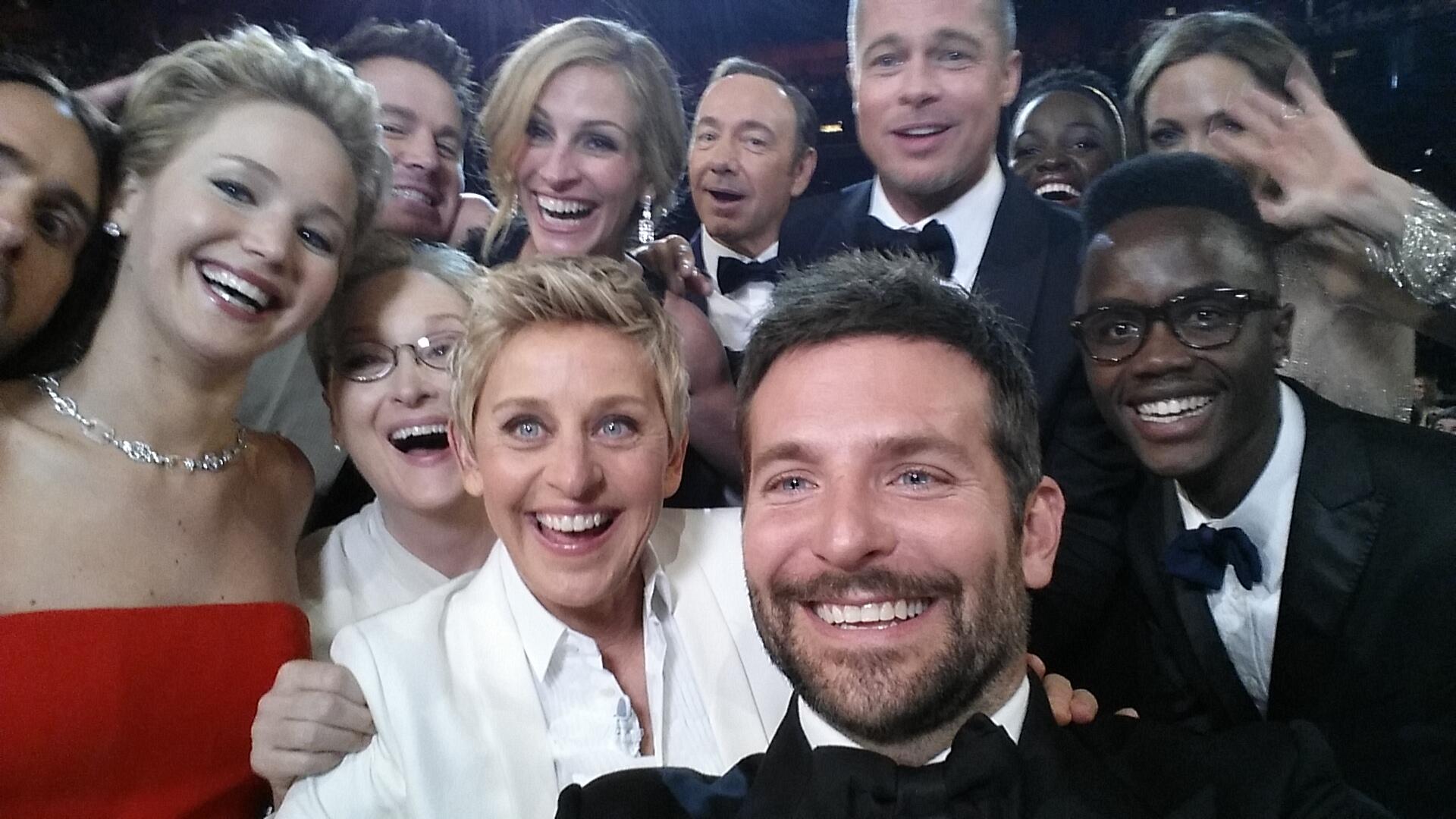 I was SO happy Frozen won for Best Animated Feature:
…and that it also won Best Original Song for "Let It Go":
The film was one of my favorite movies of all time (the power of love between sisters; the courage and then reward of being yourself; such good lessons!). You can read how much the song means to me in my previous blog post about it, but each time I hear the song, I feel like I get more and more out of it. I think it's a fantastic message for anyone who is afraid of sacrificing a perfect image to embrace who s/he really is–the beauty of finding out your own unique talents when you finally "let it go." After my traumatic brain injury, I struggled so much with this concept, since I wanted to be just like my old self and achieve the exact same goals I had for myself before–goals set intentionally by me, and goals set artificially by society (you must look like ___; you must achieve ___ by __ age, etc.). It's been quite the journey, but I reached a point where I realized I had so much more to offer as a survivor, as the true *me*, than I ever could by completing some outdated checklist.
Idina Menzel's performance for the show gave me goosebumps. It was extraordinary. She's one of my very favorite singers; her range, emotion, and style are gorgeous. I actually felt a little bad for her tonight, because I think something was going on with the synching of the background music (not to mention how John Travolta butchered her name in her intro). The music sounded way too loud for her, and she had to almost shout-sing over it–shocking for such a powerful singer–I can't imagine how bad it must really have been, then! I also think the pacing was a little off. I couldn't tell if she was wearing an earpiece to hear the music, but if not, that might have been the problem. From my own experience as a performer, I know that music sounds a lot different when you're onstage and it's reverberating throughout the hall versus when you're hearing it directly out of a close source. Still, I think something even more was going on, since Idina is such a seasoned Broadway performer. I guess we'll have to wait for the news stories to come out! I haven't found anything about it yet. Of course, it was still a beautiful, passionate performance, and I highly recommend watching it if you haven't already.
A special congratulations to the film Her, which picked up the Oscar for Best Screenplay. It's another film I have to see, especially because my friend Marcy's sister, Natalie Farrey, is the executive producer! From everything I've heard, it's a well-done film. I'm perhaps a little afraid of its being sad…but we all know that sometimes that's good for you, right? 🙂
What did you think, dear readers? Were you particularly happy or disappointed in any of the wins? Were there performances or moments you enjoyed?
The people at bookish.com had a really clever idea: they made an Academy Awards-style nominations list for their favorite books of 2013. They are taking votes for YOUR favorites until 10 a.m. E.S.T. on March 3 (today), so make your vote now!
Vote here for the best novel; protagonist; supporting role; graphic novel; cover design; nonfiction; film adaptation; and short story collection of 2013. All you have to do is comment. 🙂
You can see my votes below, and I'd love to see yours!:
Best novel: The Ocean at the End of the Lane
Best female in a supporting role: Lettie Hemstock (The Ocean at the End of the Lane)
Best graphic novel: Hyperbole and a Half
Best film adaptation: Hunger Games: Catching Fire